Complete Solutions for Your Ranch
4 Rivers Ranch Equipment
Better by Design
Our mission at '4 Rivers' is to manufacture and supply Top Quality Affordable Cattle Yards to the cattlemen big or small.
Using innovation and first class customer service, we strive to meet the demand for cattle handling equipment America wide. With '4 Rivers' emerging from a ranching background, we understand the customer's needs and do everything in our power to make their dreams possible.
4 Rivers is the leader in low labour required livestock working systems. With innovative design and a long cattle history, we have been able to deliver cattle handling systems that are strong, safe and can be operated by a single person.
From our early days in the Australian Outback, 4 Rivers is now established in the USA and supplying cattle systems to American ranchers big and small. From the large scale producer to the hobby farmer.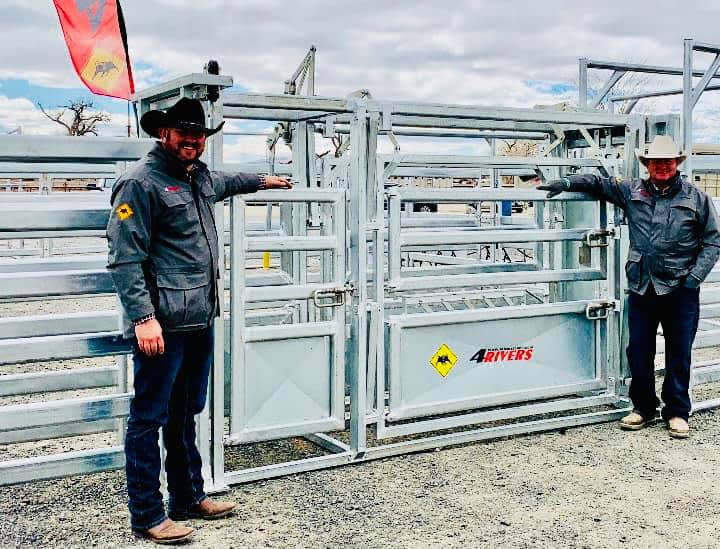 You make it so simple. Our yards were ordered, erected and ready to use in record time. Easy to use, top notch quality and practical to the end. A trusted supplier to us commercially as well, delivering great hassle free satisfaction to our valued customers. Thanks, guys!
Over the last couple of years we have developed a great partnership with 4 Rivers. They have helped us supply great quality yards that are very reasonably priced and their customer service is a very high standard. They are a pleasure to deal with and I would recommend 4 Rivers for your new set of Cattle or Sheep yards.
Everything is well thought out, well built, and easy to use. TJ was great to work with and the price was more than fair.
We absolutely love our 4 Rivers Ranch equipment, we replaced everything with them!
We have just had our yards installed by Brett and Daniel from the Shepparton office. This is a quick note of thanks to express our appreciation for the pleasant, competent and obliging way they conducted themselves. The yards look fantastic and they were able to make some changes at the end that were no trouble at all.
Thank you to Andrew and his team for an awesome solution to our crush issues. The crush is now working really well and we are very happy with the result. I loved how there was no messing around like so many companies seem to do these days. You just acknowledged the problem and fixed it. Thank you.
We chose 4 Rivers panels, because they are horse and rider safe, well built, durable and light and the 4 Rivers team both helped in the arena design and assembly.
I have bought two sets of cattle yards and one set of sheep yards through 4 Rivers so far. I chose them because they have the best quality at affordable prices. Their latching system is second to none and all the yards work really well and help the cattle and sheep flow through easily.
For no obligation, FREE and immediate access to the catalogue, fill out the form.